Last month Larry King joined the ranks of celebrities who have jumped in on the home goods market with his new line of bedding – a collection aptly named 'Sleep Like A King'.   It seems like almost every celebrity is climbing aboard the lifestyle wagon from Ellen DeGeneres 'ED' line to Pharrell Williams Home.  As I waded through the stacks of product photos I wondered if the celebrity had much at all to do with the designing?   I am sure that a great deal of them simply approve a set of drawings that cross their desk and return to memorizing their script or writing their latest hit song.  I will say that I probably would buy a pair of Sarah Jessica Parker shoes (after all, she introduced me to Manolo Blahnik's)….that said, I'm not interested in most of the celebrity products I see – they all look the same to me.  You see one bath towel you've seen them all.
---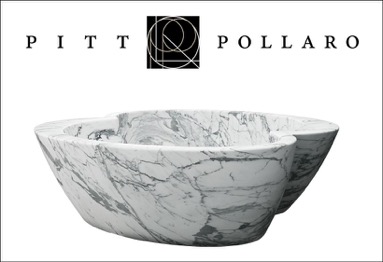 Bathtub by Pitt Pollaro
---
Some ventures seem to fit the namesake, others not so much.   As a designer I'm always looking for new and interesting designs and one line that really stood out to me was Pitt-Pollaro (yes, Brad).  Good grief, here you have an outstanding actor who can truly design some incredible furniture pieces.  It seems that when he wasn't in the middle of shooting a film or at Cannes with his beautiful wife, he was sketching literally hundreds of furniture pieces over a decade.   He met the ultimate craftsman, Frank Pollaro, and they decided to team up and turn some of these designs into reality.  They don't have tons of pieces – just enough.  I love the marble bathtub pictured here.  Pure luxury!   Each piece is meticulously designed and built.
Check out their website: www.pitt-pollaro.com